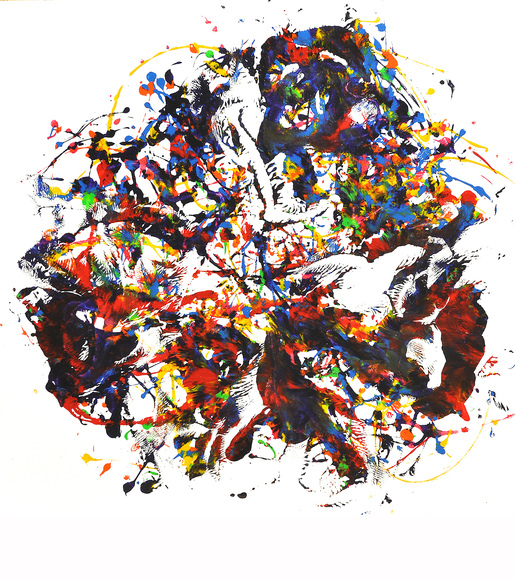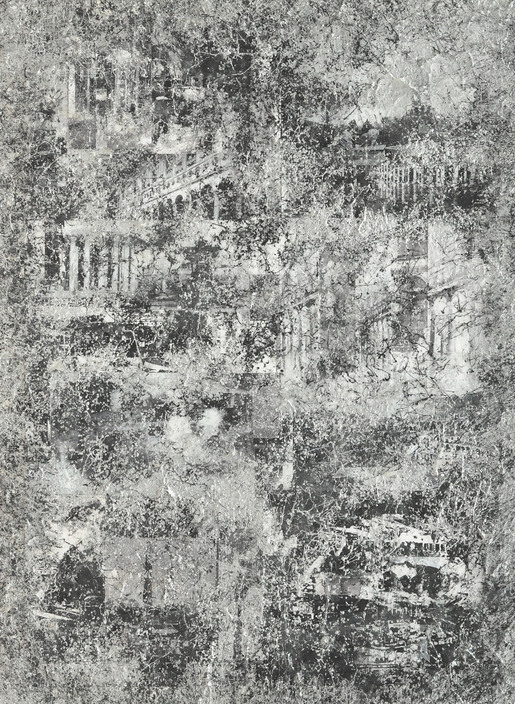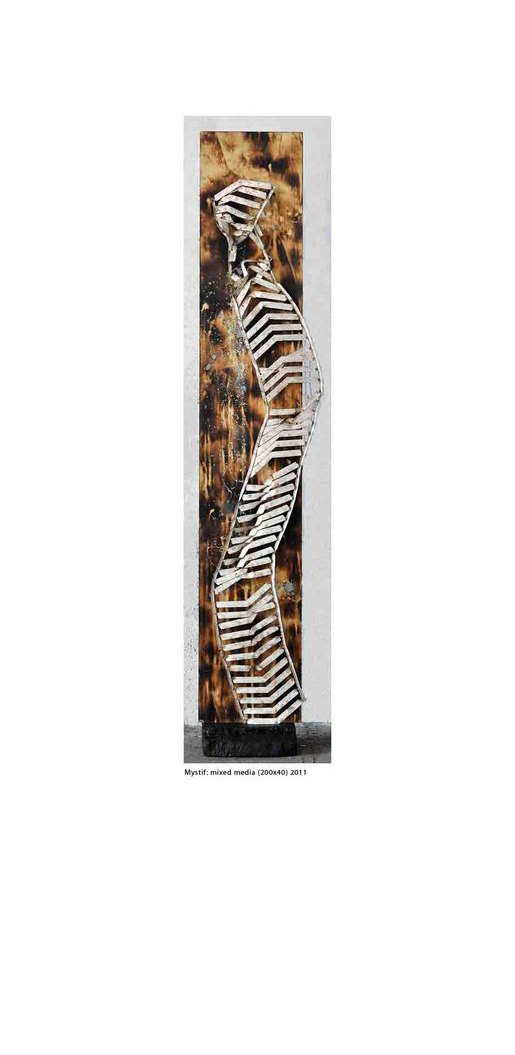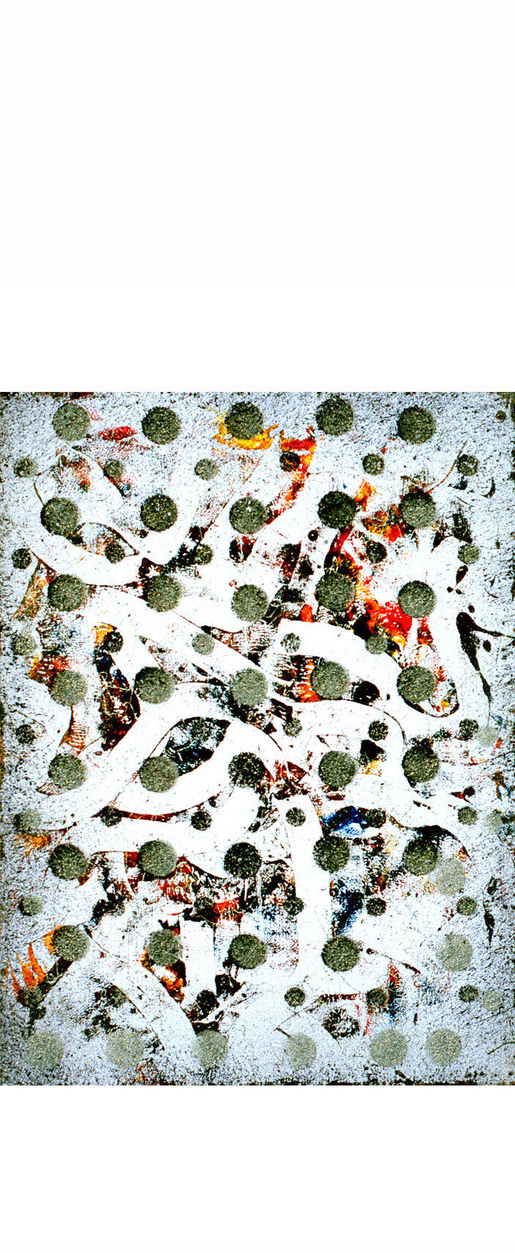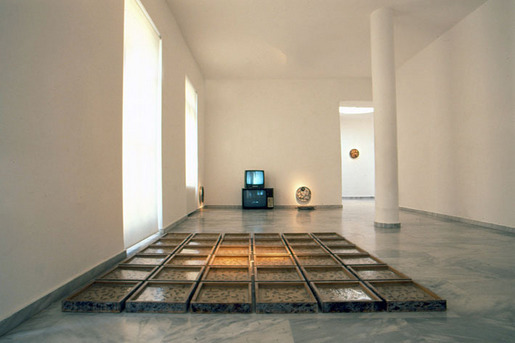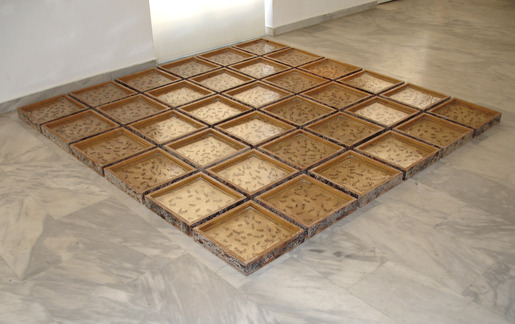 Action and Gesture - SAF - 4 June 30 September 2016
Santorini Arts Factory (SAF) presents the Apostolis Zolotakis' painting series "Action and Gesture".
The energy emanating from the paintings refers to action painting, however this is an illusion. In these works the conception and execution is based on design , they have been created in more or less indirect way.
The representation stems from and returns to the painting. The form is absorbed by the substance, giving to the paintings the element of self-reference and of self-autonomy. The spectator is free to project himself on them.
The palette mainly comprises of the basic colours. The colour is transferred onto the pictorial space (added or subtracted) through another surface.
The works exhibited have been created during the last three years.
The exhibition will open on Saturday 4 June and will last until 30 September.
bbbbbbbbb
nnnnnn
ikjjjjjj
ssssssss



Proskinites
For his new works Apostolis Zolotakis chose to explore the interface between photography and painting. In paintings he processed figurative photographic images: archaeological Italian urban sites. The pictures come from large format negatives on glass, such as being used in early photography. The images were affected by the wear and tear of time with mold and moisture. Zolotakis edited them by computer, creating a new "digital" decay. The printed results were mounted on canvas. Each image contains a token of worship (in Greek known as Tama) of a man or a woman. This man or woman stands for the traveller, the silent memory, the Pilgrim, after whom he named the series. Finally, he worked on the images with acrylic paint and graphite.

cccccccccc
cccccccccc
cccccccc
bbbbbbbb
mmmmm
nnnnnn
nnnnn
cccccc
bbbbb
mmmm
89877667453
mkhhgvjv
bhjvhgcgh
nnnn
l;johiug
fxfgdhgfjgv
jbkgijkbkjbk
jkgkhgkgb
jkgiyfgyljg
mkbkhg
nnnnn
mmmmm




Contemporary View - Ancient Cultures
Herakleidon Museum - Athens

In cooperation with Allard Pierson Museum and Stichting Beeldende Kunst Amsterdam


Inside the Black Box (installation)



Archaeology is related with time. As humanity travels through time, traces of existence are left behind and covered by earth, layer after layer. Apostolis Zolotakis, looks at today, through the eyes of an archaeologist of the future. Whereas nature, rituals and mysticism were components of ancient societies, contemporary society - though maybe still loosely attached to its roots - has turned to technology, artificial intelligence and manipulated products. Zolotakis questions these possible future witnesses of today's existence, and more specifically the ones concerning Greek contemporary culture. The artist refers to nature, to our memory of ancient Greek heritage and Christian faith, in relation to phenomena occurring in our times. In the 21st century, the meaning of knowledge and time is being reevaluated, as the power of technology increases. Fast information provides huge profits or causes incredible loss. Can we still keep up with what goes on inside the black box?


Curator: Alexandra Van der Staaij


Sound environment: Theo Abazis



Zolotakis' "Black Box" contains the testimonies of a bygone or upcoming future catastrophe and at the same time comprises a hubris, an insult toward God, not the old one who created humans "in his own image", but the new one, the monstrous fantasy of the greed of the international stock markets and the uncontrolled systems of profit production. In the exhibition's music the latter is symbolically called "Johnny" (a nickname of Dow Jones in the stock brokers' world) and like a new Dionysus lures his faithful followers to a seductive and frantic dance that only death can stop. [Theo Abazis]



Under the auspices of The Embassy of the Kingdom of the Netherlands in Greece.
gghchgcgcjgh
ghhgchgchgc













Construction - Deconstruction
Herakleidon Museum, Athens


The artworks in this exhibition form a mysterious journey with, as starting point, the Digital Image, which in our time is rapidly and continuously evolving. Its use in communicating information is so dynamic that it often cancels out the information itself. Technology now surpasses nature although its original purpose was to serve as a means of representing nature. The use of computers in processing and altering a film or a photograph creates such fine results that a new reality is formed, which is even more "true" than the one the human eye captures when observing the world. The artist aims to demonstrate the real substance of this "new truth".
Apostolis Zolotakis leads the observer into processes of transformation, allowing his creations to alternate between order and chaos. He researches the digital image, focusing on its structural elements, the dots. His compositions invite us to plunge in and research their structure, asking ourselves if we are witnessing a moment of construction or deconstruction.

Curator: Alexandra van der Staaij

Celluloid and Cigarettes

CheapArt, Athens
We perceive the notion of Time mainly through the endless diversification of everyday images. The world is marked out primarily through the image and its constant changes are recognized especially through the image. The installation "Celluloid and Cigarettes" poses questions pertaining to the human journey in the river of time. The depiction of this course in art and
technology
, but also the reality itself sail together. In this journey, that possesses only horizon and not a return to its starting point, the human changes and along with him changes the whole of his environment. His ways, practices and his perception of them, their "storage" in the reservoir of world experience are being altered or they vanish. Parts of contemporary human take their place in the material and immaterial museum show-cases, are transported on the ship of time to the island of the past, sealing the end of an era, opening up new windows and hoisting the sails in the open horizon.
3